[vc_row][vc_column][vc_column_text]
Romano Dal Forno
---
About Us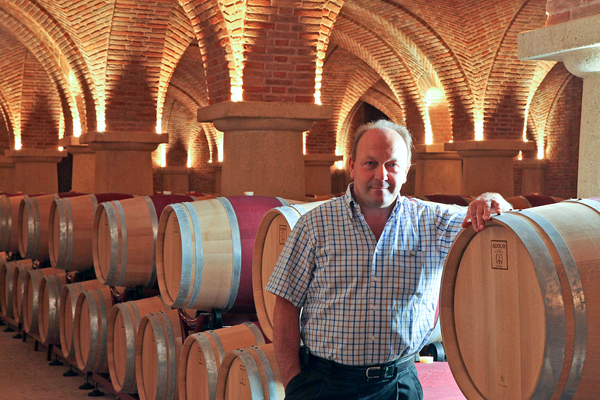 Romano Dal Forno is Veneto's 'Grape King' and also one of the kings of Amarone, Italy's great 'Monster' wine.
Romano Dal Forno was born in 1957 in the village of Capovilla, which is situated a few kilometres from Illasi, it is in this environment, where wine is not just a product but more a philosophy of life, that the Dal Forno family have nurtured their vineyards for almost four generations.
His life changed at 22 years of age when he met Giuseppe Quintarelli who was to prove to be his guiding light: Giuseppe opened Romano's eyes to a new way of producing wine and of planting vines, which made him concentrate on the importance of quality over quantity.
It took many years and lots of patience to accrue, process and summarize the deep knowledge of production procedures, of the instruments and of drying techniques which today they can safely say that they have acquired, and which they will continue to refine.
Principally known for its famous Amarone della Valpolicella, the winery produces three wines, all characteristic of the area in which the winery is situated, distinguishing itself in its constant and total quest for absolute quality.
The 1983 grape harvest produced the first great results for the company: from this year onwards 22 vintages of Amarone della Valpolicella have been produced and 25 Valpolicella Superiore DOC.
An almost obsessive attention has always been paid to Recioto: the noble "Padre dell'Amarone" (The Father of Amarone).
The continuous international recognition, which is received daily, compensates for all the scruples, sacrifices and the attention given to working procedures, in the vineyards and the winery, and gives the strength and energy required to ensure that the horizons of excellence are always moved to the next level.[/vc_column_text][/vc_column][/vc_row][vc_row][vc_column][vc_separator color="custom" border_width="4″ accent_color="#781820″][/vc_column][/vc_row][vc_row][vc_column]
[/vc_column][/vc_row]