San Biagio Winery
---
About us
The Roggero family has owned the farm for generations.
The farm enjoys a spectacular panorama opening out onto the Langhe surrounded by splendid vineyards. Old documents show that San Biagio was known of as far back as the Middle Ages. All the estate vineyards are part of the Great Vineyards of Barolo within the Commune of La Morra. In addition the resolution no. 21 of 15 April 1994, has established the boundaries of the crus recognized as being prime sites for the growing of the Nebbiolo variety used to produce Barolo wine.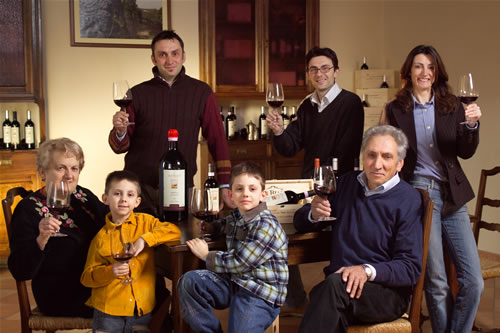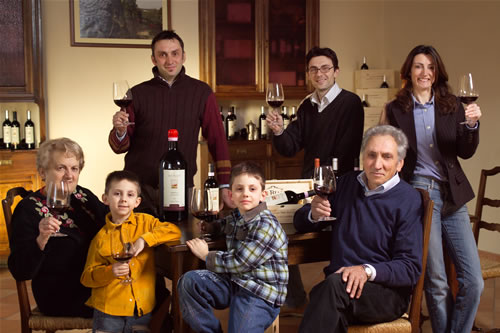 The old cellar is located in the original farmhouse built back in 1923. Here, various vintages of Barolo age in large casks standing beneath a high, narrow-vaulted brick ceiling. The new winery built in 2000, was equipped with a modern vinification area and an underground floor to provide the perfect surroundings for maturing of wines.
Giovanni ,the owner, co-ordinates the whole family business. Agrotechnician Davide looks after the vineyards and implements plant protection measures in compliance with EU directives. Finally Gianluca handles the vinification, giving the wines their inimitable style and respecting their varietal qualities.
The Winery
It is located amidst beautiful scenery on the slopes of San Biagio in La Morra. The estate stretches over 18 hectars, most of which are located this hill and contribute to form a broader area called "Great Vineyards of Barolo": San Biagio, Rocchettevino, Roncaglia Soprana, Pria-Capalot are among the best. The family has recently acquired the Montersino vineyard, in Treiso d'Alba, to produce Barbaresco, and the Sorano vineyard, in Serralunga d'Alba.
In conclusion a visit to San Biagio Winery is a moment to savour, admiring the vineyards and cellars set in a magnificent landscape, and discovering the spirit of the company in its wines.